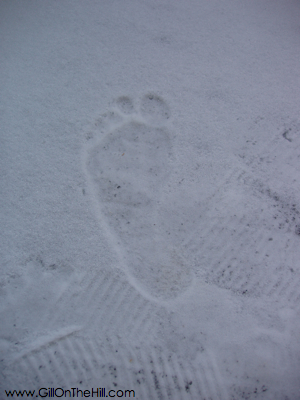 We watched a documentary on "Bigfoot." It was surprisingly compelling. Apparently, scientists have examined hair found at a sighting of "bigfoot" and found that it was from an unknown species, not far from human, not far from gorilla. In the 1800s, some folks captured an apparent "baby bigfoot" and snapped a few pictures before it escaped from a locked train car, surely helped out by momma bigfoot.
We were sitting around here in the Sequoia National Forest and I said, "With all of this supposed bigfoot evidence, where's the bigfoot evidence here in Sequoia?"
My mother interjected, "In my early 20s when I was working at the Park [Sequoia National Park], I saw a footprint in the snow. It was huge. I ran and got my brother and told a ranger. Uncle Fred blew it off as a prank but there was something about it…"
I showed her footprints in the documentary. "Yes, that's it! It looked like that!"
"You've got to be kidding."
Two days later I was getting something out of the freezer on our covered porch. Some snow had drifted to the porch floor and left a small snow cover. I glanced down and noticed a bare footprint in front of the freezer. My own prints obscured the origin of the strange print.
It was ten degrees that morning and I do happen to know that no one around here would be walking outside barefoot.
Related posts: