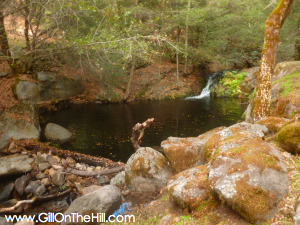 Some weeks ago I was talking to a friend about this summer's "cold water therapy" — cold water soaking to fight inflammation and maybe even depression. (I wrote about it on the Rebuild Blog here.) Those very cold creek soaks helped me beat the summer heat but also seemed to give me a sense of wellness, which I desperately needed caring for my dad after his open heart surgery.
I felt convicted by the story: If it helped me in the summer, why am I no longer soaking?
It was 60 degrees after all, not exactly frigid. Sure, it had snowed once and snow melt was pouring down those creeks, but wasn't that the point — to get really cold?
In a moment of apparently too much bravery, I set out to soak up to my waist. I didn't have a lot of time (or supplies apparently). I had a towel in the car and I reasoned that since my plan was to sit in a shallow part of the creek, the long shirt I was wearing would cover my chones and no one would ever show up at Tyler Creek anyway on that weekday in November. Why bother driving home for actual swim wear? Really, who has time to cross every T, right?
My car was the lone car in the turnout at Tyler Creek when I ventured into the creek. I left my pants on a nearby rock and gasped as I put my feet into the snow melt. It's bad enough in the summer but it's a whole new experience in 60 degree weather. Already largely committed, I walked further into the creek and further from my pants. Almost immediately I changed my goal to soaking up to my knees. Waist-deep was far too much for a first-timer like myself.
As I stood knee-deep in the creek, I heard a dog barking.
A hiker had arrived and the hiker's dog found me first. I estimated that I had 60 seconds before the hiker would be in sight.
I looked across the creek at my pants and decided that it would be far worse to be caught putting on pants then to be seen soaking in a creek even if the whole chones part was obvious.
As the hiker passed I waved and shouted "I know I must be crazy — I'm soaking my knees!"
"I'm sorry about the dog!" she called.
Well played on both sides.
No mention of the chones.
Related posts: