Perhaps it was too much Halloween excitement around here, but I ended up with an infected root canal the day after Halloween, severely hampering my ability to attend to the important matter of our Halloween journey on "The Lost Road." With friends for cover, we hit to road on Halloween and explored it in its entirety. We have many important details to report such as whether the local wildlife is carnivore or herbivore and what happened when we got dangerously close to the animal nest at the head of the road. 
The biggest discovery of the day, however, is that this little lost road is a whole lot of fun.
Inspired by the "scary movie" picture of Frederick posted in anticipation of Halloween, we have begun a new tradition: "scary lone hiker portraits." Yes, folks, right here at Hilltop House you can hike on a lost road and have your portrait taken at the same time for posterity.
On our last stop of the lost road tour, we slid down to the seasonal creek area. We removed debris from the creek in our minds and discussed the work behind getting the area usable. We need a few young guys with chain saws working a couple of days each and we will have our own little creek retreat. We discussed funding the work.
"What if we invite people up for "lone hiker portraits" and say that the price of the portrait is working for the day clearing the creek?" 
We laughed and pulled our tired bodies up the 60-degree slope.
"Entrance to the lost road" photo gallery
From Halloween and from our exploration a week later, we have eager hikers waiting at the entrance of "the lost road," a passage to a world with lions and witches perhaps as described by Tweeter Cody Edwards in my Halloween post.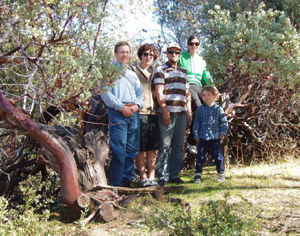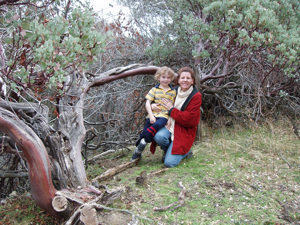 "Scary lone hiker" photo gallery
I display part of the new collection below. When are you coming, friends, for your portrait? Too scared?

Elijah walks down the old road and hears an unfamiliar sound…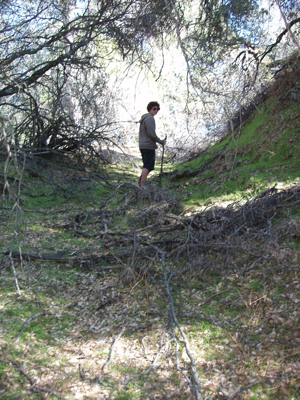 Jennifer was unaware of the predator watching her as she hiked: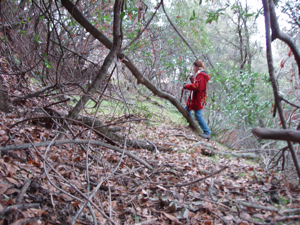 Sander came under attack by a strange force in the forest (surely explaining the blurry photo):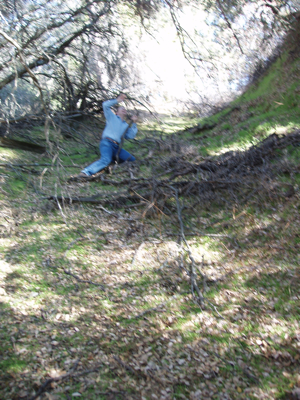 Related posts: