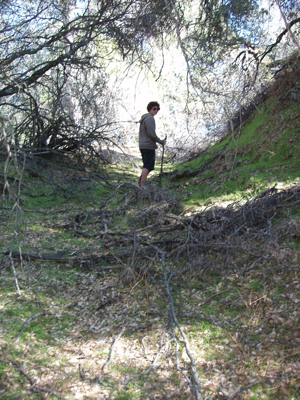 Back in the fall of 2009 one the coolest things happened to us here on the property: We discovered a road that probably had not seen human traffic in 70 years. We called it "The Lost Road" and had a great time inviting friends to see it, marveling at how scary it was, and cleaning it.
Never has so much fun been had over what is a fairly small patch of dirt.
Set back by illness and by a toddler who could get really lost on The Lost Road, our Lost Road explorations came to a halt sometime in 2010, much to my chagrin. (We had so much fun.) The road is seasonal to start. Friends have visited in the summer ready for a hike on the famous-to-some road only to change their minds when they realized the path was populated by poison oak and snakes. Poison oak is dormant in the winter and yet still carries a bite, but somehow not actually being able to see the leaves makes the hike a bit more enjoyable (though perhaps more risky if you don't have a good eye for bare red sticks).
In any case, the cold months here are the months of The Lost Road. Its time has come again.
In a fun "coming of age" moment, I sat the former-toddler-turned-preschooler down with his Lost Road-experienced brother and we read the old posts about our adventures. I deemed Alastair old enough to join us if he could follow instructions carefully and promise never to go by himself. he has some understanding of "death by wild animal" growing up in a forest and displays some general caution. He seems to be ready.
Fingers crossed.
Read the highlights from the past:
Related posts: