Two months after two Giant Sequoia trees fell in the Trail of a Hundred Giants blocking a large portion of the wheelchair accessible trail, the Forest Service has announced a plan to renovate make the trail accessible once again.
Despite the two votes in our household that the Forest Service carve a tunnel through the massive tree trunks (that tower 18-feet as they lay across the trail), the Forest Service has decided to build a boardwalk alongside the lower edge of the trees. The boardwalk will allow visitors to experience the expanse of the Giants as they move across the area that was disrupted by the fall.
The Forest Service released their plan outlining the various proposals to reroute the trail and their decision. The suggestions are mapped in the graphic below, save my suggestion to join the trail between marker #6 and #11 (not that it was the very best idea I've ever had and it was delivered via a tipsy "Tweet," so I didn't hold a lot of hope for it).
The fallen trees are the big green rectangle, the proposed boardwalk the blue rectangle.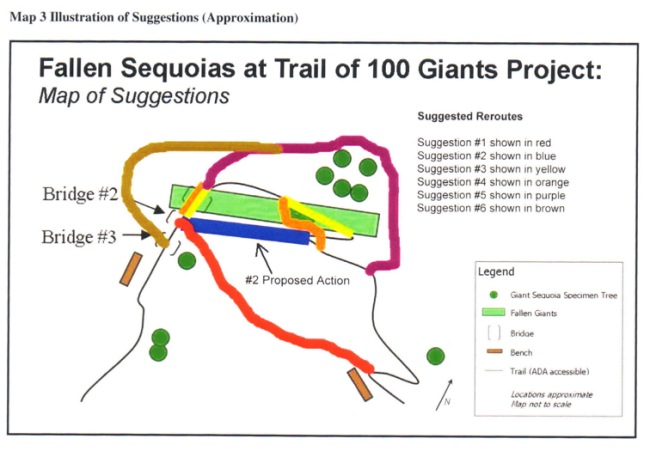 Though my boys were strong on the tunnel plan, we all look forward to a new boardwalk and plenty to talk about in our weekly visits to the Trail. As a memento of our days at the Trail before the fall, we have discovered a video in our family archives — "The Boom Boom Bridges," bridges I honored in my previous report of the fallen giants.